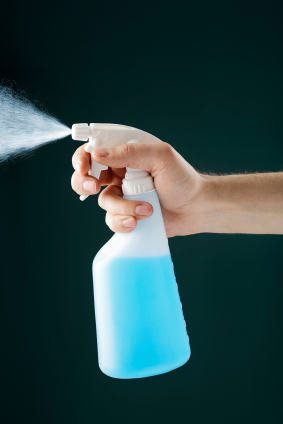 Are your cleaning products messing up your health? While we're far from knowing the health impact of all chemicals used in cleaning agents, you can easily (and very inexpensively) create your own house-healthy cleaners. Some tips:
Mix either vinegar or baking soda with warm water in a spray bottle, and you've got an effective, all-purpose cleansing agent.
Bypass commercial air deodorizers, many of which contain formaldehyde. Instead, add cinnamon, essential oils, cloves, or any herbs you like to a pan of boiling water, and let the sweet steam deodorize.
On laundry day, reach for Borax (sodium borate). This natural mineral acts as a stain remover, bleach alternative, and detergent booster. Baking soda can remove stains and deodorize, and cornstarch absorbs greasy stains and starches your clothing. Lemon juice can also double for bleach.
Salt (sodium chloride) is a mild abrasive for cleaning bathrooms and kitchens.
If you use a cleaning service, ask them to use methods and products you find healthiest, or consider hiring a "green" cleaning company.