Laura

Talks about the Importance of Social Support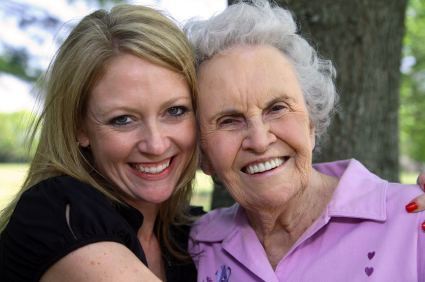 About eight years ago, I experienced a lot of transitions in a short amount of time. I got married, moved away from my family (with whom I am close), and had a baby all within about a year and a half.

Although most of these changes were essentially positive, I wasn't feeling like myself. I had insomnia, I was overeating, and I didn't have the energy to do the things I normally enjoy, like knitting and writing. I felt really lonely. Although I was never formally diagnosed, I was probably depressed.

I really wasn't interested in any drug therapy, because I was still breastfeeding. Talk therapy seemed overwhelming; just getting to a counselor's office with a small baby seemed harder than it was worth.

After confiding in a neighbor, she suggested that perhaps getting out of the house and connecting with others might be, if not a cure-all, a healthy thing for me to do. She mentioned a program that matches young adults with elderly folks in our neighborhood. At first, I was hesitant; thinking it might involve too much time, or might deplete my energy even more. But I felt determined to find a therapy that allowed me to avoid a "clinical" route. So I called the organization. This is how I met Bobbi.

Bobbi was an eighty-two year-old woman who had lived in her home for almost fifty years. She had one daughter, who lived abroad. Bobbi had some mobility problems, and some blood pressure concerns, and she could no longer drive. Other than that, she was quite healthy, not to mention sharp-witted and friendly. She lived about a mile from me, so it was an easy walk for me and my baby. The exercise turned out to be a valuable part of the experience, too.

Bobbi was the grand dame of her block. She knew everything about the community, dating back for years. She told wild, hilarious stories that gave me a sense of history about my newly-adopted city. In return, I would help her with her laundry, take her grocery shopping and to the hairdresser, and to events at her church. We usually met once a week, and spent most of the day together, cooking, doing chores and errands, and just talking. She loved playing with my daughter. Bobbi quickly became part of our family, and even spent holidays with us.

Last year, after a short illness, Bobbi died. We miss her, but I believe the experience of caring for another person (and being cared for in return) was a healing thing at a hard juncture in my life. Some people just think that it's time that healed me, but I believe that the social connection really helped. I am so committed to helping other people find this kind of support that I now actually work for another "intergenerational match" program. And I have also met Ruth, an eighty-six year-old lady who is quickly becoming our family's new "grandma." I cannot recommend this type of therapy strongly enough. Everybody wins.