What

Experts Recommend for Healthy Eating

Below are some general guidelines that apply to everyone and are important for good health.
Know your healthy body weight and eat to maintain (or achieve) it.
Combine healthy eating with exercise.
Follow dietary guidelines, including recommendations for alcohol consumption.
Drink eight glasses of water per day.
Pay attention to when, why, and where you eat, and change unhealthy patterns.
Know Your Healthy Body Weight
Because there is such strong evidence linking obesity to many chronic or acute diseases, the World Health Organization and the U.S. Department of Health and Human Services recommend that you aim for a healthy body weight with a body mass index (BMI) between 18.5 and 25. BMI indicates an individual's weight status in relation to height. It doesn't apply to children, the elderly, or the very athletic. Calculate your BMI with this tool from the National Heart, Lung, and Blood Institute.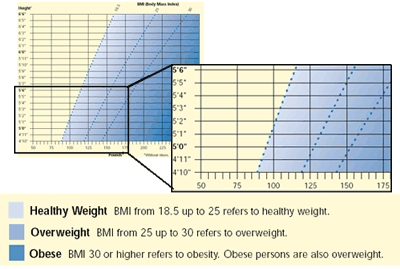 Combine Healthy Eating with Exercise
Studies show that diet alone is not as effective in achieving a healthy body weight as diet combined with exercise. Physical activity has many other health benefits as well. See the Fitness and Exercise section for recommendations on how to be physically active each day. Even relatively small weight loss can make a difference in health. Losing just ten pounds reduces blood pressure, improves glucose tolerance, and improves blood lipids.
Follow Dietary Guidelines
Whether you need to lose or maintain weight, you should make healthy food choices following the Dietary Guidelines for Americans, developed by the U.S. Department of Health and Human Services and the U.S. Department of Agriculture. These guidelines will improve your health, help you meet your nutrient requirements, and reduce your risk of chronic disease.
The dietary guidelines recommend that you get the most nutrition out of the calories you eat. There IS a right number of calories for you to eat each day. Calculate your calorie needs.
To stay within that number and get the nutrients you need to perform well, maintain wellness, and fight disease, you cannot eat too many high-calorie items. However, some age groups or people with specific conditions have special nutritional needs.
To simplify healthy eating, the U.S. Department of Agriculture has replaced the traditional food pyramid with the Choose My Plate graphic . We recommend the Harvard School of Public Health version, called the Healthy Eating Plate, which points consumers to the healthiest choices in the major food groups based on the best scientific evidence.
See More about the Dietary Guidelines. See also our Food as Medicine topic for more specific information on what foods you should eat.
Drink Water
Although it is not formally part of the dietary guidelines, it is commonly realized that it is important to drink 8 to 10 glasses of water a day to help your body's biological processes, especially carrying nutrients to cells and eliminating wastes. It is best to drink purified water, so investigate getting a water purifier for your home if you don't already have one.
The Institute of Medicine (IOM) advises men to consume roughly 3.0 liters (about 13 cups) of water a day and women to consume 2.2 liters (about 9 cups) of water a day.
Eighty percent of this should come from drinking water and other beverages, (but not soda, coffee, or alcohol). The remaining 20% should come from foods-especially fruits and vegetables, which are 70% to 95% water.
Your water needs depend on many factors, including your health, how active you are, and where you live. It's generally not a good idea to use thirst alone as a guide for when to drink. By the time you become thirsty, you may already be slightly dehydrated. It is especially important for older adults to drink water before they become thirsty, because your thirst sense is diminished as you get older.
Pay Attention to Your Eating Patterns
How, when, and where do you eat? If you're like many Americans, you may often eat while doing something else: driving, talking on the phone, watching television, or reading. In short, you may pay little attention to your food.
As a result:
You may not always fully taste and enjoy your food
You may eat more than you need
You may sometimes suffer from indigestion or other gastrointestinal symptoms.
Learn about being why being mindful while eating matters.
Eat with Others
Apart from the biological effects of eating on the run, there are social, psychological, and spiritual effects. Fast food habits can deny you the benefits gained from preparing foods with mindfulness, appreciation, and love, and eating with others in a loving and relaxing atmosphere.
Research demonstrates that the social component to eating is critically important to health outcomes and wellbeing. In a recent study of adolescents, researchers found that frequent family meals were not only related to better nutritional intake, but also decreased risk for substance abuse, sexual intercourse, depression, eating disorders, and poor academic performance. Family mealtimes are a strong protective factor in the lives of adolescents. It stands to reason that eating with others you care about is beneficial to everyone.