How

Do I Find a Qualified Aromatherapist?
As with any other kind of service provider, the best way to find a good aromatherapist is through referrals from your healthcare providers, family, colleagues, and friends.
When choosing a practitioner, it is important to consider their education and training, experience, and philosophy of care. Lists of aromatherapists are also available online (see the Aromatherapy Registration Council).
Ultimately, you need to choose someone you trust and feel safe with, who feels "right" to you.
How do I work with an aromatherapist?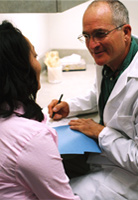 Working with an aromatherapist is similar to working with other healthcare providers. The more information the aromatherapist has about your health, the better he or she can treat you. A brief health history should be included in the first visit, covering basic information about allergies, chronic and acute health conditions, and any pertinent environmental factors.

You should be informed of your rights and responsibilities as a client, according to the law. In Minnesota, aromatherapy practice must adhere to the statute governing complementary therapies.

Treatment with essential oils can be brief or lengthy, depending on the condition being treated and your response. It is important for consumers to pay attention to their bodies and obtain follow-up as treatment progresses.

If you think you may be experiencing an adverse effect, stop using the essential oil(s) and consult the aromatherapist. If you are treating a serious condition, it is important that your other healthcare providers are aware of complementary and alternative therapies you are using, including essential oils. Ideally, there would be consultation between providers, but if this is not possible you as the consumer may need to pass information.


When do I need an aromatherapist?
While this is largely a matter of personal preference, we hope that the information on this website will help you make this decision. Even if you are using essential oils yourself, it is helpful to have an experienced aromatherapist who can answer any questions you might have about dosage, purity, application methods, and possible interactions between essential oils and other medications you may be taking.
A good rule of thumb is if you are in doubt, contact a knowledgeable aromatherapist or work with a healthcare provider you trust who is willing to investigate with you.
Are aromatherapists licensed?
There is no licensure for aromatherapists in the US. Guidelines for practice are often included in general aromatherapy courses, but these are not monitored or enforced by any regulatory body at this time.

An aromatherapist may or may not be a licensed healthcare provider. Healthcare licensure (for example, MD, RN, or DC) at this time does not indicate any particular knowledge level about essential oils. The practice codes for these professions, however, dictate that these individuals should be able to demonstrate additional training and competence in modalities not normally part of their profession before including these skills (like aromatherapy or acupuncture) in their practice.

A lay person practicing as an aromatherapist is not licensed in the U.S., but may have more training and experience in the use of essential oils than a healthcare provider. For these reasons, it is important to ask a prospective aromatherapy provider about their training and experience.
Are aromatherapists certified?
There is no national aromatherapy certification. However some groups offer their own certification programs. The National Association for Holistic Aromatherapy (NAHA) is an educational, nonprofit organization that has established education guidelines for aromatherapy training programs. NAHA guidelines require 200 hours of training, including anatomy and physiology. Their website lists two Standards of Training levels. Level One consists of 30 hours of Aromatherapy Foundations. Level Two consists of approved standards for professional Aromatherapy certification.

The NAHA website lists aromatherapy schools that comply with their current educational guidelines and have applied for inclusion in their website. Consumers also can find books and other information approved by NAHA on this site.
Another private company owned by an RN who has practiced and taught aromatherapy for many years offers an aromatherapy certification program for nurses. Visit www.rjbuckle.com.
Registration

The Aromatherapy Registration Council (ARC) offers registration to individuals who have demonstrated core knowledge of aromatherapy and essential oil safety by passing a national examination. Registration serves as a form of self-regulation for the aromatherapy profession, although many experienced and competent aromatherapists have not taken the step of obtaining registration. A person who has taken and passed the national exam may place the initials RATM (Registered Aromatherapist) after their name along with their other credentials. You can find a registered aromatherapist in your area at the ARC website.
What is the cost of an aromatherapy visit?
Individual aromatherapists set their own costs. They are likely to be similar to the going rates for other complementary therapies. The visit charge may or may not include the cost of single or blended essential oils used or recommended; thus there may be added materials fees. You should ask about this.
How much do essential oils cost?
The retail costs of essential oils vary widely, often depending on availability and level of difficulty in production. Many common essential oils (for example, lavender, tea tree, eucalyptus, peppermint, etc.) are relatively inexpensive (under $15 for a bottle containing about a teaspoon, or 5cc of oil). Other oils, such as German chamomile (Matricaria recutita), rose otto (Rosa damascena, distilled), jasmine (Jasminum officinalis), and melissa (Melissa officinalis), are quite expensive ($50-175 for 5 cc).
Given the small amounts that normally would be used if they are applied in appropriate concentrations (under 5%), a bottle will likely last for a long time.
Does insurance cover essential oils?
At this time, aromatherapy is not likely to be covered under insurance. Some licensed healthcare providers, such as chiropractors or mental health providers, may include the cost of aromatherapy in their normal office visit charges. Also, some individual healthcare reimbursement accounts may allow use of these funds for aromatherapy, especially if provided by a covered practitioner, for example during massage therapy.
You should check your own insurance and reimbursement coverage beforehand in order to minimize out of pocket costs.