What

Can I Do to Create a Healing Environment?
There is one simple guideline to follow in creating a healing environment: look for ways to reduce stress in the environment. This is based on research from the field of psychoneuroimmunology that shows how emotional stress impacts our bodies in multiple ways. It does this because our brain and our nervous, endocrine, and immune systems are constantly interacting. An impact on one system reverberates throughout the others.
What can I do in a healthcare setting?
Choose a private room if it is an option. Noise is a major contributor to stress and there is growing evidence that the infection rate is lower when patients are cared for in single rooms.
Here is a list of other suggestions that you can try:
Provide Distractions:
Check if you can bring artwork, family photos, sacred objects, plants, stuffed animals, or other objects to the hospital room (and if so, ask the patient what they would like).
Bring the patient's favorite music, as well as music he or she finds relaxing.
If there is a VCR/DVD player in the room, bring a variety of videos to distract the patient. See also if you can also find videos specifically designed for relaxation, some with photos of nature and soothing music. (Many hospitals offer these, either on the TV system or to check out.)
Ask if pets can visit (perhaps in an outdoor area if not in the room).
Find out if there is a garden on the grounds and go there as often as you can, taking the patient when they are able.
If it is nice outside, find out if you can open the windows in the room.
Find out if the hospital has other facilities: exercise room, playrooms for children, entertainment options.
Eliminate Environmental Stressors:
Consider supplying pleasant smells to the patient to reduce negative smells (disinfectant) that might contribute to anxiety and stress. See Aromatherapy for some suggestions of essential oils you could put on a cotton ball near the patient to not only block negative smells, but offer healing properties. For example, lavender can help some people sleep better.
Bring ear plugs, white noise machine, or a small fan to block out noise.
If the lighting is unpleasant, see if you can adjust it, or if there are any other portable options.
Work with the Staff:
Ask for the daily schedule, so family support members can leave to take a break without missing important events.
Insist on careful, professional care, but be kind and respectful to staff.
Be involved in establishing the plan of care and check that the plan is carried out.
For more information on how you can be an advocate for a patient, see Navigating the Healthcare System.
Seek Out Complementary Therapies:
Optimize Nutrition for All:
Find out what food options are available at the hospital. Are there alternative menu options? Are the meal times flexible?
Find out where the family can eat on campus and if there are any food storage options.
Maintain a Loving Presence:
Make sure you take care of yourself so you can be a calm, loving presence. Get breaks when you need them, and practice your favorite stress reduction technique. (See Mind-Body Therapies for some ideas and several guided meditation exercises that you can do.)
Realize that optimism, hardiness, self-efficacy, and a sense of control are linked to good health and that they can be learned and practiced. Resolve to do so and to help the patient do the same.
Be thoughtful and intentional in your interactions with the patient, visitors, and staff to help create a loving, healing space.
What can I do at work?
You probably have more control over your work environment than at the hospital, but there will still be restrictions. If you can paint the walls, great: choose a color that appeals to you. Consider: do you want the atmosphere to be calming or invigorating? Then consider which colors produce that effect in you. (Some studies show that red increases heart rate and is thought to be invigorating, while blue decreases heart rate and is thought to be calming.)
If you can choose the furniture, great. You can consider the color there, too. Often, even if you can't choose anything else, you can select your chair. If you have an ergonomics expert available, enlist help in choosing the most comfortable chair for you—otherwise do some research about the available chairs (often the web has good data).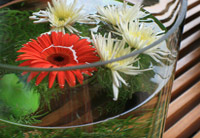 If you can't choose your wall colors or furniture, don't worry, there are still things you can do.
Bring nature into the space, with a landscape, plants.
Bring photos and objects with special meaning to you. (But it is best to avoid religious and political symbols and statements in the workplace.)
Take advantage of any natural light you have. Remove dark sides or window coverings. Add a variety of light sources#8212;perhaps a floor lamp.
If you like the sound, add a water element.
Consider getting a diffuser or vaporizer to disperse essential oils that you find appealing. For example, peppermint oil is thought to be invigorating.
Finally, consider setting a positive intention for your interactions in the space-that you will act according to your highest principles while in the office—and watch to see how it unfolds in the months after you do so.
What can I do at home?
You have the most control of your environment at home, of course, but even there you will encounter limitations-the needs and preferences of the other people in your house, the cost of making changes, the layout of the house itself.
One way to start is to choose a room or corner that you can make into a healing space. If you already have a favorite place that you can use, wonderful. If it has good natural light and a view of the outdoors, even better.
Then consider what activities you find most healing and adapt the space to them. Do you love to read? Move a comfortable chair and good light into the space. Do you meditate? Perhaps a water fountain would help you relax and focus. You might even find that your healing space is a workbench where you build or fix things, and organizing your tools and providing good light is what you need.
As with other spaces, consider your inner environment as well. Realize that optimism, hardiness, self-efficacy, and a sense of control are linked to good health and that they can be learned and practiced. Set a positive intention for your interactions in the space.