How

Can I Find a Reflexology Therapist?
As with any healing practice, you'll want to do your homework before choosing a reflexologist. Your goal is to find a reflexologist who has taken the proper training, as opposed to someone who has just had a brief introduction (such as a two week course or a weekend workshop) and think they have mastered the techniques of reflexology. Reflexologists recommend finding someone with experience reflexologist, because it takes a lot of practice to build sensitivities in the fingers and to be aware of energy flow.
Consider the following suggestions as you begin your search for the practitioner who best suits you:
Ask friends, family, and other healthcare providers for a referral. Asking friends, family, and other healthcare providers for referrals is a very good way to find a reflexologist. People who have seen the practitioner and who know you will often be good judges of a "good fit." It is important to work with a practitioner who feels right to you.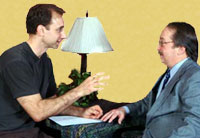 Check out the websites of professional associations. There are several professional associations for Reflexology. Their websites provide information on reflexology both locally and around the world. The following sites let you search for reflexologists in your area.
Be sure to ask about training and certification. Many practitioners are lay practitioners, perhaps trained at a massage school, without the in-depth training required for certification in reflexology. Ask how many hours their reflexology training was (most nationally recognized programs require 110 hours).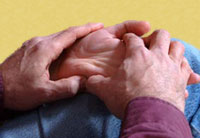 Ideally you would look for a nationally certified reflexologist, who has not only trained at an accredited institution, but has passed a national board exam. See Is Reflexology Regulated? for more information.
The advantage of a reflexologist who is nationally certified and experienced is that you will benefit more from the session. Your time, energy and money will be wisely spent.
Ask the practitioner how they work. If you enjoy deep work, ask the practitioner if they are able and willing to provide firmer pressure during the session. Many reflexologists prefer not to use firm pressure because they have found it is not necessary in order to achieve optimal results. If deep work or gentle work matters to you, ask before you schedule an appointment.
Explore your payment options prior to committing to a session. Reflexology is typically fee-for-service. Insurance does not currently cover reflexology. (If reflexology is performed by a hospital employee on a hospitalized patient, it may be covered as part of the overall treatment plan. However, if reflexology is performed on a hospitalized patient by a practitioner who is in private practice, the patient will be charged for the session.) Thus, it is important to discuss payment with the practitioner prior to the reflexology session.
Reflexology is sometimes reimbursed under employee flexible healthcare plans, but it is important to contact employers or the benefits office to make sure.