Apply It
How much do you know about your current provider, and how do you feel about him/her?
Try answering the questions in the Choosing a Provider Form to see where there are gaps in your knowledge and if you are comfortable about all the answers.
If you are seeing an integrative provider, also complete the Questions for Integrative Providers Form.
Read Up
When it comes to your health, you're the boss. It's time to hire a team of professionals who will partner with you to achieve your goals, whether they are to maintain or improve your health or better manage your symptoms.
Your search should start with your health insurance to find out which clinics and providers are available to you. Then consider the factors below.
Choosing a provider
1. Check out provider qualifications.
This means looking at more than the diploma hanging on the wall of a provider's office. Look for a provider who is certified in the area where you need care. For example, a doctor caring for adults may be board-certified in internal medicine or family medicine whereas a doctor caring for children may be board-certified in family medicine or pediatrics. "Board-certified" means that the physician has advanced training in this area.

Nurse practitioners are certified in a variety of areas such as women's health, geriatrics, neonatal care, and pediatrics. Each specialization has its own certification process.
2. Ask about experience.
How many years has the provider worked in this area? If you're considering a procedure, how many has the provider performed? What is the provider's success rate?
3. Make sure your provider's philosophy of care fits with yours.
Philosophy of care may mean many things, but it all boils down to how the provider perceives his or her role, particularly around treatment decisions. It is important to find someone who will listen and respect your decisions.

To learn about the provider's philosophy of care, consider interviewing him or her either in person or on the phone. Some practitioners may be willing to do this without charging. For others, you may need to schedule a visit.

Some basic interview questions might include:
How are treatment decisions made?
Do you provide integrative therapies? If not, are you comfortable with me seeking them elsewhere and integrating them into my healthcare regime?
4. Make sure you are comfortable with your provider.
It is important to have mutual respect between you and the provider. Ask yourself the following:
Does the provider listen to my needs and concerns?
Can I comfortably discuss everything from my everyday diet to the possible side effects of medications, my various treatment options, or mental health concerns?
Does the provider respect my decisions?
Do I feel free to ask questions and are they answered to my satisfaction?
Do I feel safe and confident having this provider perform procedures or administer medication?
5. Ask about the clinic.
Providers generally work in a clinic or group practice and the policies and staff there can have a big impact on your satisfaction. See if you can find answers to the following:
Does the clinic staff have expertise in any special areas?
If I have questions and call the clinic, who answers them?
How long does it take to get an appointment for urgent care and for a physical?
What hours is the clinic open? What do I do after hours?
If my primary provider is not available, who do I see?
6. Inquire about the provider's hospital privileges and educate yourself about available hospitals.
Doctors only have privileges to practice at certain hospitals, so if you prefer one facility over another, make sure s/he can practice there. Some of the factors to consider when evaluating hospitals include:
Patient satisfaction
Specialties
Amount of experience with certain procedures
Safety reports
Quality indicators
Cost
Integrative therapies offered
Print the Choosing a Provider Form, a worksheet that helps you work through the decisions involved in choosing a provider.
Where can I find information about hospitals?
Depending on where you live, some of this information may be available online. For example, the U.S. Department of Health and Human Services offers a hospital locator and comparison tool on their website. The Leapfrog Group provides information on healthcare quality at hospitals that agree to provide data, and 100 Top Hospitals is another good resource for finding the best care available.
Another approach is to do a Google search for the name of the hospital and the words "quality scores" to ferret out information about specific hospitals.
Next, call the hospitals. Ask to speak with the Quality Department, or whoever can answer the following questions:
What is the nurse-to-patient ratio? (A good number is 6-10 per nurse)
What are the complication rates for the procedure you are going to have?
Has the hospital had a serious infection outbreak in the past, and if so, how did they handle it?
When looking for a surgeon, it is also good to ask:
How consistently does the same surgical team work together?
How can I find someone to give a second opinion?
Most healthcare providers will be supportive of your desire to get a second opinion and most insurance plans will cover a second opinion. But it is important to find out ahead of time. Call your plan's patient services representative and ask if they cover second opinions.

To find a provider for a second opinion, follow the same steps that you took to find your primary provider. Ask for referrals from family and friends, contact your health plan or managed care organization, check clinic websites, call a clinic directly, or ask your primary provider for a referral.
How do I choose an integrative therapy provider?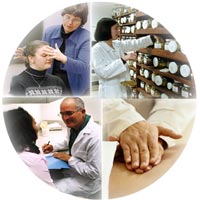 All of the tips on seeking a competent provider apply to integrative therapies as well. But sometimes finding the right integrative practitioner can be difficult.
There is more variability in training, and the regulations that govern integrative practitioners vary considerably from state to state.
However, qualified integrative practitioners make a great addition to your healthcare team. Here are a few tips for choosing one:
1. Get referrals.
One of the best ways to find an integrative therapy provider is through a referral from someone you trust. Start talking with friends, co-workers, or neighbors about integrative therapists they have found effective. Many practitioners rely on word of mouth, so first-person accounts are helpful. Of course, you'll also need to interview the practitioner and check on licensure and/or other quality measures before committing to treatments. But asking for referrals is a good first step.
2. Check the web for professional organization and certification information.
You may begin your search for an integrative provider by researching professional organizations and other resources online. This electronic research can offer certification information (e.g. how many hours a practitioner must study with an accredited school or instructor) as well as offer contact information.

For example, the National Certification Commission for Acupuncture and Oriental Medicine (NCCAOM) provides an online directory that lists practitioners of Oriental medicine and acupuncture who are board-certified.
The American Board of Holistic Medicine is also beginning to certify doctors for holistic care, and offers names and contact information of certified holistic doctors state by state on their site. Again, this is simply a starting place, and personal interviews and credential checks are essential in ultimately choosing your provider.
3. Check licensure.
Licensure for integrative therapy providers varies widely by state. For example, chiropractors are licensed in all 50 states, whereas naturopathic physicians are licensed in only 14 states.
4. Ask questions.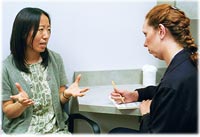 Once you've selected an integrative provider you'd like to meet, you can consider the items on the Choosing a Provider Checklist. However, here are some additional questions for integrative therapy practitioners:

Questions for Integrative Therapy Providers Form (Print)
Do you accept my health insurance?
Do I file the claim forms, or do you (the provider) take care of that?
What is the cost for an initial appointment?
How many treatments will I need?
How much will each treatment cost?
Can I receive treatment for a trial period to see if the therapy works for me before I commit to a full course?
It can also be useful to ask which insurance plans the practitioner accepts, in case you become interested in changing plans at some point (for example, through a change of employment).
In summary
It is important to find a provider that you trust and feel comfortable with. In addition to checking their professional expertise to make sure it matches your needs, ask about the provider's philosophy of care and see if corresponds with yours. Evaluate if you feel comfortable with the provider and think you could partner well with him or her in making your health decisions. Check out the clinic services and policies and find out which hospital the provider is associated with and check it out.
In addition, when checking out integrative providers, you may want to explore insurance coverage and your out-of-pocket costs.