Create

a Personal Health Record
Read Up
What is a personal health record?
A personal health record (PHR) is a collection of information about your health. It is different from an Electronic Medical Record (EMR) or Electronic Health Record (EHR), which are owned and stored by your healthcare provider.
A PHR is a document that you are in charge of—one that you compile, update, and keep. It can simply be a folder full of papers, but people are increasingly turning to electronic personal health record systems. These store health information in a secure location online that you can access anytime
Why do I need one?
Anytime you move, switch healthcare providers, or seek medical treatment during a vacation, you will be asked to provide your health history. It can be difficult to remember all of this information. Having a PHR on hand means you know the answer when you are asked when your last tetanus shot was or the dosage of your medications.
PHRs can also save you in an emergency situation. Consider this example: If you were to experience a health emergency at work, or on a trip with friends, would your companions be able to answer questions about your health history and current healthcare provider? In a time of crisis, it can be difficult to remember important and potentially life-saving information; a PHR can do that work for you.
How does it work?
You create a PHR online through the system of your choice (see chart below) and then either print off a copy or pull the record up on your web-enabled device to present to your healthcare provider. Some online PHR systems can be automatically accessed by medical personnel; others will offer a printed ID card with a password, should you be unconscious or unable to access your record yourself in an emergency situation..
How do I create one?
Start first with your health insurance company. Many offer a PHR online tool on their website. However, check to make sure that you can transfer your information if you need to switch insurance companies.
Other PHR online systems are available. A good free one is Microsoft's Healthvault.
What kind of information should I put in my PHR?
Include the following in your personal health record:
Emergency contacts
Names, addresses, and phone numbers of your healthcare providers, including specialists and dentists
Health insurance information, such as the name of your insurance company and key phone numbers for service
Current medications and dosages
Allergies (to foods, drugs and other substances)
Important events, dates, and hereditary conditions in your family history
A list and dates of significant illnesses and surgical procedures
Results from recent doctor visits
Important tests results; eye and dental records, immunization records
Any information you want to include about your health - such as your exercise regimen, any over-the-counter or herbal medications you take and any counseling you may receive.
What about privacy?
Online PHR systems are not covered by HIPPA; however, most have a very similar privacy policy of their own. Take the time to read it before you start an account.
Choosing a PHR online tool
There are many personal health record tools available online. Check with your health insurance company first to see if they offer a PHR. Some insurance companies may offer the benefit of automatically uploading claims, test results, and appointment histories to your record. Make sure you ask how your information is handled if you switch providers. If the company cannot transfer your information to a new provider, be sure you back up all of your records elsewhere.
My PHR has a wealth of information on this topic, including a search function that enables you to browse different PHR tools before choosing one. Below are some of the most popular online PHR tools and their costs and benefits:
| | | |
| --- | --- | --- |
| Name | Cost | Benefit |
| Microsoft HealthVault | Free | Can connect to certain health-monitoring devices (i.e., glucose meter) to upload and record readings |
| Healthy Circles | Free | Can transform your data into interactive graphs |
| MedHelp | Free | Offers support communities so users can connect with others |
| My Medical Records | $9.95/month for a family of up to 10 | Any healthcare professional can simply fax medical records directly into your password-protected account |
Learn More
Websites
Apply It
Below are steps to lead you through the process of creating and using your own HealthVault account. Microsoft HealthVault is just one of many online PHR management tools that can help you create and store your personal health records in a protected online account. HealthVault is used by the Mayo Clinic's online Health Manager system, and Microsoft is a member of the TRUSTe Privacy Program, which ensures that your personal information will stay private. HealthVault includes a feature that enables members to connect health devices (such as glucose meters or blood pressure machines) to the computer and automatically upload readings.
Get a HealthVault Account
Starting a Microsoft HealthVault account is easy and free. To get started, go to www.healthvault.com and click "Create a free account."
Get a Windows Live ID
You will need to create a Windows Live ID, which is a sign-on name that can be used on Microsoft sites. Just click the "sign up" button on the screen that appears after you click "Create a free account." You'll be asked to provide an email address, password, and secret question. This information will only be used to help you remember your password if you ever forget it.
When you are finished, you can sign in to Health Vault using the email address and password you provided.
Add Your Health Information
Once your account is started, you'll need to fill in your information.
Click on the "Health Information" tab. To add a specific condition (i.e., diabetes), click the plus sign next to "conditions."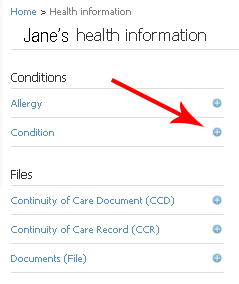 Begin typing in the name of your condition. A pop-up list will appear with suggestions.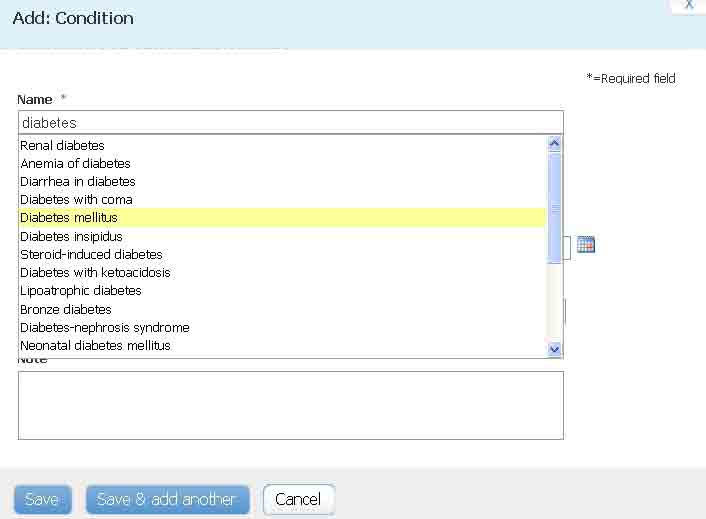 You can also add other health information, such as a list of your medications: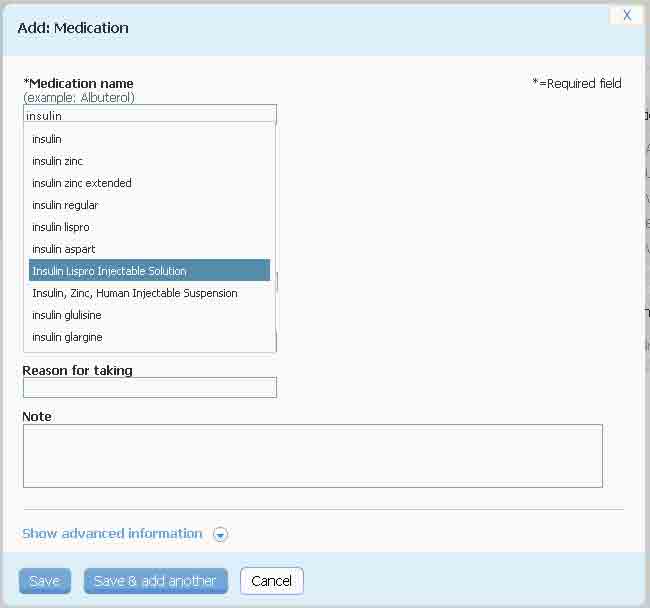 Go through and complete all of the sections you can. You may need to refer to paper records or call your doctor's office for past test results.
Add Documents
If your doctor faxes you paperwork, you can scan it and upload the document via the "Upload a file" button: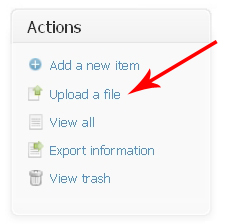 Share Information with Your Provider
Ask your healthcare provider if their system works with HealthVault.
If it does, you can choose the "Export information" link to send your records directly to your provider. Some information may be imported directly into your account as well-for example, if your provider uses Quest Diagnostics for your lab tests, the results can be automatically uploaded to your HealthVault account.
If their system is not compatible with HealthVault, you can easily print any part or all of your personal health record and bring it to your next appointment.