What

Should I Know About Health Insurance? Read Up
Paying for healthcare can seem scary or complicated. However, it is essential to know your healthcare coverage and potential costs so you can make smart choices and avoid costly surprises.

Understanding your insurance policy or other ways of paying for healthcare will not only offer you financial peace of mind, but may drive decisions on where to seek treatments.

It is wise to discuss most cost and coverage questions directly with someone who best understands the details of your insurance coverage. This could be a customer service representative with your health plan or insurance company, or someone who manages healthcare benefits within your workplace.

Many health insurance companies also offer extensive web-based explanations of benefits, so logging on is also an excellent starting place.
What about employer-based health coverage?
As you begin your quest to learn more about your available coverage, consider these facts:
It is usually your employer and not the insurance company who determines what is included in the benefit package. These decisions are generally made on an annual basis. If you want to have input into the insurance plans offered by your company, contact your company's benefits administrator.
Many companies offer more than one plan. If you have options, examine each plan carefully so that you can choose the plan that best meets your needs.
A flexible spending arrangement (FSA; sometimes called a Flexible Spending Account or Health Savings Account) is a benefit provided by some employers that offers a way to help pay for out-of-pocket medical expenses, while reducing the employee's taxable income. With FSAs for health-related expenses, you choose an amount of pre-tax dollars to be set aside from your paycheck each pay period. This money is then available to reimburse certain health-related expenses that are not paid any other way, such as by insurance. You may need to supply documentation from a physician or other healthcare provider that the treatment is medically necessary. Note that the IRS does not allow the same expense(s) to be both reimbursed through an FSA and claimed as a tax deduction.
If you are not satisfied with your employer's health insurance options, contact your Human Resources Department. Make concrete suggestions about how the employer could improve benefit selection, payment options, and other healthcare insurance features. Some organizations even have committees designed to offer this input. In short, if you'd like better or different healthcare coverage, be part of the solution!
What if I don't have employer-based health insurance?
Most Americans' healthcare coverage is "attached to" or supplied by a larger system, such as an employer. If your employer does not offer health care benefits, you may have other options.

If you are disabled, over the age of 65, or have young children, you may be eligible for financial aid (such as Medicare, Medicaid, or low-cost health insurance). To learn more, visit the Centers for Medicare and Medicaid Services.

In addition, some states offer healthcare coverage. Check the US Department of Health and Human Services' website for more information.
What questions should I ask?
Once you've learned a little about your healthcare coverage possibilities, begin digging for answers to specific questions.
Health Payment Checklist (Print)
If you have insurance, ask:
Does the care I want to receive need pre-approval by my insurance company or health plan?
Do I need a referral from my primary care provider?
What services, tests, or other costs will be covered?
How many visits are covered and over what period of time?
Is there a co-payment?
Will any additional costs (laboratory tests, equipment, supplies, etc.) be covered?
Will I need to see a practitioner in a defined network? If so, can you provide me with a list of practitioners in my area?
If I use a practitioner who is not part of the health plan's network, do you provide any coverage? Are there any additional out-of-pocket costs?
Are there any dollar or calendar limits to my coverage?
If you do not have insurance coverage for treatment, and paying the full fee each time would be difficult for you, you might ask:
Can your office arrange a payment plan so that my costs are spread out over a longer period of time?
Do you offer a sliding-scale fee? (A sliding-scale fee adjusts charges based on a patient's income.)
Will you negotiate a reduced charge if I pay in cash?
How do I pay for integrative and alternative treatments?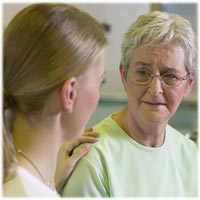 If you are seeking insurance coverage for integrative therapies, you may wish to explore financial issues at the same time you explore care options, since cost may be an important factor in making a decision to pursue particular treatment options. Alternatively, you may decide to explore the cost of care and your insurance coverage after deciding which treatment you want to do.

Whatever process you choose, know that coverage for integrative therapies varies considerably between health plans and tends to be quite limited. It is estimated that consumers pay directly (out-of-pocket) for 80% of integrative therapies. Prior to receiving integrative therapies, you should ask your provider and/or your insurance company:
Is the therapy covered by my insurance, and will the therapy be covered for any condition or only for certain conditions? (Acupuncture, for example, is covered by some insurance companies but the coverage may be limited to treatment of specific conditions, such as chronic pain.)
Who is authorized to deliver the services? Do the services need to be delivered by specific practitioners (such as a licensed medical doctor or a practitioner in the company's network)?
A limited number of insurance companies offer integrative therapy insurance coverage. Usually, the coverage is one of the following three types:
Higher deductibles: A deductible is a total dollar amount that the consumer must pay before the insurer begins making payments for treatments. Under this type of policy, integrative therapies are covered, but the consumer pays a higher deductible.
Policy riders: A rider is an amendment to an insurance policy that may change coverage in some way (such as increasing or decreasing benefits). You may be able to purchase a rider that adds or expands coverage in the area of integrative therapies.
A contracted network of providers: Some insurers work with a group of integrative therapies providers who agree to offer services to group members at a rate lower than that offered to nonmembers. You pay out of pocket for treatment, but at a discounted rate.
Two Important Additional Resources
The US Department of Health and Human Services has just launched a comprehensive health insurance search tool at healthcare.gov. Here you can find insurance options based on your situation and stay abreast of policy changes in healthcare reform.
Every state has an insurance commission that regulates the insurance industry, enforces laws, and assists consumers. This agency enforces the laws governing insurance coverage of all treatments, including integrative therapies. (For example, it would enforce mandatory coverage of chiropractic care because this is the law in all 50 states.)
If you have questions about the requirements for insurance coverage of specific integrative therapies, call the state insurance commissioner.
To locate the insurance commissioner's office for your state, go to The National Association of Insurance Commissioners (NAIC) website. The insurance commissioner or regulator's office might have different names in different states, such as the [Name of State] Insurance Administration (or Division or Department). Each office has a toll-free consumer assistance number.
In summary
It is important to understand your health insurance or other ways of paying for healthcare so you don't end up with unexpected bills. Getting this information in advance may drive decisions on where to seek treatments.

Get cost and coverage questions directly from a source that understands the details of your insurance coverage. This could be a customer service representative with your health plan, or the government website for Medicare.

If you considering integrative therapies, explore costs and insurance coverage at the beginning, since cost may be an important factor in your decision whether to do a particular treatment.