Like many complementary therapies, high quality research on massage has been limited due to the lack of funding. However several relatively recent developments have increased the amount of good research in this area.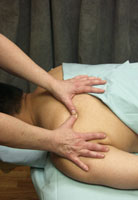 To begin, massage has become an important research priority for the National Center for Complementary and Alternative Medicine (NCCAM [1] ). In addition, the American Massage Therapy [2] Association, recognizing the importance of high quality research, convened a working group of established research scientists and leaders in massage therapy in 1999. The outcome was a recommended research agenda [3] for the massage therapy profession that included building a massage research infrastructure and investigating the safety, efficacy, and mechanisms of massage therapy. The Massage Therapy Foundation [4] is a separate organization that is now considered to be the steward organization for moving the research agenda forward and advocating for new studies in massage therapy.
So while there is still relatively little massage therapy research compared to other treatment approaches, high quality research is emerging. This is particularly true in the area of low back pain, but also for other healthcare concerns, such as cancer symptom management, premature infancy, and other areas.
What are some of the issues in researching massage?
Like any treatment, massage therapy can and should be studied using rigorous scientific methods. However, massage therapists, because of the unique nature of their therapy and how it is delivered, face special challenges when conducting research.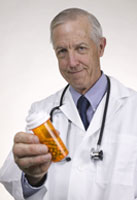 In medicine, the gold standard for clinical research has traditionally been the double-blind, placebo-controlled clinical trial. Both the provider and the patient are masked as to the whether a real treatment or placebo is delivered, minimizing bias, and maximizing the chance that the observed results are due to the true therapeutic effect of the treatment in question.
While this approach works well for drug trials (the placebo pill can be made to look identical to the real pill), it isn't effective for treatments like massage. Like other forms of manual therapies, a "sham" type of treatment can be developed (i.e. light touch massage); however, it can't be assumed to be completely devoid of therapeutic effects. In fact, several massage therapy techniques utilize a light touch approach as a legitimate form of treatment.
Further, while attempts can be made to make the sham treatment appear legitimate to the patient, it becomes difficult as patients learn more about massage therapy from friends, media, and their own experience. Finally, it is impossible to blind the therapist, who must know which treatment he or she is supposed to deliver.
However, just because a randomized clinical trial can't be placebo-controlled or double-blinded, doesn't mean it can't be of high quality and contribute to the greater scientific knowledge.
Good examples of high quality clinical trials are the ones reported by Cherkin et al. in the Archives of Internal Medicine, which investigate massage for low back pain.
What areas are being researched?
As massage therapy has many purported benefits, research has or is being conducted on a wide range of patients with a variety of conditions. Most of the research to date has included small, preliminary studies that lack the methodological quality to draw firm conclusions regarding massage therapy's effectiveness.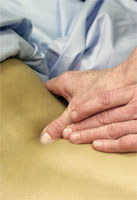 However, in recent years, larger studies of higher quality have begun to emerge, as have thorough and balanced reviews of the existing literature (i.e. systematic reviews), which evaluate the effectiveness of massage therapy. There are also several ongoing, federally funded, randomized clinical trials studying the effect of massage on chronic back pain, cancer pain, depression during pregnancy, and pre-term infants.
While the evidence to date is most compelling for low back pain, there are also promising results regarding massage's effectiveness for pre-term infants, and symptom management in cancer and dementia sufferers.
One example is the study summarized below:
Furlan et al. (2008) conducted a systematic review of thirteen existing randomized controlled trials evaluating massage therapy's effectiveness in the treatment of non-specific low-back pain. The purpose was to provide a rigorous and balanced summary regarding the effectiveness, safety, and costs of massage therapy for low back pain. They found evidence that massage may be beneficial for patients with subacute and chronic non-specific low-back pain, especially when combined with exercises and education.
For updated information regarding ongoing randomized clinical trials on massage therapy, search clinicaltrials.gov [5], a service of the U.S. National Institutes of Health, and search "massage".
To stay informed about recent studies published pertaining to massage and other CAM therapies, go to CAM on PubMed [6].
References
Barnes P, Powell-Griner E, McFann K, Nahin R. (2002). Complementary and alternative medicine use among adults: United States. CDC Advance Data Report #343. 2004.
Bronfort et al.: Effectiveness of manual therapies: the UK evidence report. Chiropractic [7] & Osteopathy [8] 2010 18:3. doi:10.1186/1746-1340-18-3
Chen SL, Fan JY, et al. Effects of massage on pain, mood status, relaxation, and sleep in Taiwanese patients with metastatic bone pain: A randomized clinical trial.Pain. 2011 Jul 28. [Epub ahead of print]
Cherkin DC, Eisenberg D, Sherman KJ, Barlow W, Kaptchuk TJ, Street J, Deyo RA. (2001). Randomized trial comparing traditional Chinese medical acupuncture [9], therapeutic massage, and self-care education for chronic low back pain. Arch Intern Med, 161(8):1081-8.
Cherkin DC, Sherman KJ, Deyo RA, Shekelle PG. (2003). A review of the evidence for the effectiveness, safety, and cost of acupuncture, massage therapy, and spinal manipulation for back pain. Ann Intern Med, 138(11):898-906.
Cherkin et al. A comparison of the effects of 2 types of massage and usual care on chronic low back pain: a randomized, controlled trial. Ann Intern Med. 2011 Jul 5;155(1):1-9.
Eisenberg DM, Kessler RC, Foster C, Norlock FE, Calkins DR, Delbanco TL. (1993). Unconventional medicine in the United States. Prevalence, costs, and patterns of use. N Engl J Med, 328(4):246-52.
Furlan AD, Imamura M, Dryden T, Irvin E. Massage for low-back pain. Cochrane Database of Systematic Reviews 2008, Issue 4. NO: CD001929. DOI: 10.1002/14651858.CD001929.pub2
Eisenberg DM, Davis RB, Ettner SL, et al. Trends in alternative medicine use in the United States, 1990-1997: results of a follow-up national survey. (1998). Journal of the American Medical Association, 280(18):1569-1575.
Fellowes D, Barnes K, Wilkinson S. (2004). Aromatherapy [10] and massage for symptom relief in patients with cancer. Cochrane Database of Systematic Reviews, Issue 3. Art. No.: CD002287. DOI: 10.1002/14651858.CD002287.pub2.
Haraldsson BG, Gross AR, Myers CD, Ezzo JM, Morien A, Goldsmith C, Peloso PM, Bronfort G, Cervical Overview Group. (2006). Massage for mechanical neck disorders. Cochrane Database of Systematic Reviews, Issue 3. Art. No.: CD004871. DOI: 10.1002/14651858.CD004871.pub3.
Hillier SL, Louw Q, Morris L, Uwimana J, Statham S. Massage therapy for people with HIV/AIDS. Cochrane Database of Systematic Reviews 2010, Issue 1. Art. No.:CD007502. DOI: 10.1002/14651858.CD007502.pub2
Underdown A, Barlow J, Chung V, Stewart-Brown S. (2006). Massage intervention for promoting mental and physical health in infants aged under six months. Cochrane Database of Systematic Reviews, Issue 4. Art. No.: CD005038. DOI: 10.1002/14651858.CD005038.pub2.
Viggo Hansen N, Jorgensen T, Ortenblad L. (2006). Massage and touch for dementia. Cochrane Database Syst Rev. 18;(4):CD004989.
Vickers A. Methodological issues in complementary and alternative medicine research: a personal reflection on 10 years of debate in the United Kingdom. (1996). J Altern Complement Med, 2(4):515-24.
Created Date:
October, 2008