Reiki [5] is easily learned and practiced as self-care by anyone who is interested, regardless of the person's age or state of health. Children can learn to practice, as can the elderly and the infirm. No special background or credentials are needed to receive training. One of the hallmarks of Reiki practice is its simplicity: it can be learned in about ten hours of in-person training, generally offered in group class formats, and doesn't require knowledge of either subtle bioenergy or healthcare.
Why would I want to learn Reiki?
Although it is a wonderful experience to receive Reiki from someone else, a friend or a professional, there are many reasons to consider learning to practice Reiki on yourself. The convenience of self-care [6] is valued not only by people with health challenges, but also by others with busy schedules who are seeking more balance in their lives.
Daily Reiki self-care provides an opportunity to restore balance, reduce stress [7], and reconnect with an experience of wellness.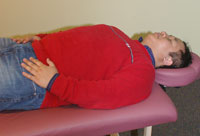 Additionally, moments of Reiki practice throughout the day can bring centering and relief from pain, anxiety [8], and stress [7] as often as needed. People suffering from anxiety [8] or pain who learn Reiki self-care [6] have the additional empowerment of knowing they are never again alone and helpless with their suffering.

Learning Reiki self-care can benefit people who are healthy and those with chronic health conditions, whether it's diabetes [9], asthma, cancer [2], epilepsy, fatigue syndromes, depression [8], or heart disease [3], to name just a few. They can practice Reiki on themselves every day to reduce stress [7] and strengthen wellbeing and repeat the Reiki practice as often as they feel the need.

There is also some anecdotal evidence that Reiki has potential for benefiting animals in many of the same ways experienced by humans. Those offering Reiki to their pets are often pleasantly surprised at their pet's interest and cooperation!
When there are financial limitations, the advantages of a one-time investment in learning to practice Reiki self-care over paying for repeated sessions are obvious. When there is illness in a family and it is no longer feasible for the patient to self-treat, one or more family members can learn First degree (hands-on) Reiki and treat the patient (and other family members) as well as themselves.
How can I learn Reiki?
You can only learn Reiki from a qualified Reiki master. One way to find a Reiki master is to ask friends that practice Reiki with whom they studied. You can also ask local practitioners of other complementary therapies, such as massage [10] or shiatsu [11], because these practitioners often know other complementary therapy providers. Or you can check bulletin boards in yoga [12] studios and health food stores or inquire if your local hospital has a complementary or integrative medicine service. Since Reiki is used by many people to cope with chronic illness, any local organization that offers services to people with illnesses such as cancer [2], HIV, fibromyalgia, or diabetes [9] may have a list of community resources.
It is important to note that Reiki is not a standardized practice and so there is no guarantee that anyone using the title "Reiki master" has the training and experience you seek in a teacher/mentor. For this reason, it's important to inquire into any Reiki master's background, and a credible Reiki master will welcome this inquiry.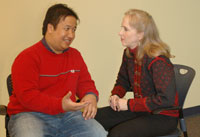 Many Reiki masters have websites or brochures that describe their training, experience and classes. If you do not find such information, it is reasonable to have a brief conversation to ask some questions. Many of these questions are the same ones you would ask a Reiki practitioner, as outlined in the section How Can I Find a Qualified Practitioner [13].

In addition, be sure to ask about the Reiki master's teaching experience and classes (scheduling, fee, etc). And finally, ask what opportunities the Reiki master offers for continued mentoring and group practice. Choose your Reiki master carefully, looking not only for a teacher who has the qualifications you want, but also for one with whom you feel a rapport.
What are the three degrees of Reiki training?
Traditionally, there are three degrees of practice, each building on the other and each outlining a unique, specific scope of practice. Daily hands-on Reiki self-treatment remains the foundation at all levels of practice.
First degree is usually taught over 8-12 hours. Students practice Reiki self-care and share Reiki with one another. This class prepares students to give themselves daily Reiki for life. Students learn hand placements to use when sharing Reiki with family or friends, either through a full session or an abbreviated chair session, as well as how to offer Reiki in acute situations and through informal "spot therapy." Reiki classes offered to nurses and other health care professionals often include content on Reiki application in clinical settings. Although the class is primarily experiential, the Reiki master gives an overview of the history and precepts of Reiki. Most importantly, the Reiki master initiates students so they become empowered conduits for Reiki energy. Traditional First degree training includes four initiations. For most people who want to practice on themselves and family, First-degree training is all they need.
Second degree is distant healing: students learn to replace the hand-to-body contact with a mental connection when needed so that healing can be offered even when touch is impossible or inappropriate. (For example, psychotherapists may choose to learn Second degree to bring another dimension of healing into therapy sessions.) Second degree techniques can also be used to enhance hands-on treatment.
The third level is Reiki master. Traditionally, the Reiki master level of training was by invitation only. This invitation was extended only to accomplished students who were prepared to devote their lives to teaching people to practice Reiki. Traditionally, master training is done not through course work, but rather through an extended apprenticeship with a Reiki master. Only Reiki masters can teach Reiki to others.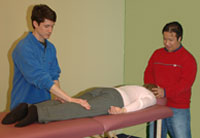 Whether you seek to practice on yourself or others, learning Reiki is not an intellectual exercise. Proficiency with Reiki is developed through practice, not by taking the next level class.

Families can learn to practice Reiki either to enhance wellbeing or to address illness. Practicing Reiki on themselves and one another engages the family in a culture of wellness, enhances bonding, and creates habits of healthful living that can support a lifetime of wellbeing.
Created Date:
October, 2008