Your provider's ability to determine what is wrong and how to treat it depends almost entirely on communication.
From scheduling an appointment to wrapping up your visit, effective communication will help ensure that you get what you need. Here are a few communication tips:
1. Know how to make appointments.
The communication during this step is crucial. When making an appointment with your physician, nurse practitioner, or integrative provider, explain the reason for the appointment, so the receptionist knows how much time you'll need. Be as clear as possible but remember that you don't need to give a full health history or disclose any private information.
Here are some good examples:
"My knee has been bothering me for several months and I would like to schedule an appointment within the next week or two to have it evaluated."
"I've had a cold for a week and now I feel worse with a high fever and pain. I would like an appointment today."
Feel unsure about whether or not you actually need to see a healthcare provider? Then speak to a nurse or to someone who can help evaluate your concern and determine when you should schedule an appointment.
In other words, ask for what you need on the front end, and your time with your provider will be more useful.
2. Bring your healthcare records.
If you are seeing a new provider, bring a copy of your healthcare records and the results of any previous tests or procedures. Remember to keep copies of these records for yourself, just in case you are asked to leave the documents you bring to your appointment.
It is important to remember that your healthcare records belong to you. You have a right to your own medical information and may request this from any provider or hospital.
This is particularly helpful when people are seeing multiple providers for complex health issues. Consider putting together a notebook or filing system to maintain all of your records in an orderly fashion.
Even better, create an online personal health record. Learn more in Create a Personal Health Record [13].
It is also crucial to regularly review all of the information in your provider and insurance company records to make sure it is accurate. Here are some simple things you can do to verify the accuracy of the records:
Make sure that your name appears on all of the forms, reports, and correspondence.
Verify that you have had the conditions and/or procedures listed, and that the diagnoses are correct.
Read the report of each office visit and the results of each procedure.
Click here for forms to keep track of tests [14] and request your medical records [15].
3. Arrive prepared to tell your story.
Since the average doctor's appointment is about fifteen minutes, it is helpful to prepare for your visit. Write a list of your concerns and use it to jog your memory. Include the following information.

Preparing for Your Appointment Form (Print [16])
What symptoms am I experiencing?
When did they begin?
What makes the condition better or worse?
What are my questions or concerns?
What medications am I taking, including prescriptions or over-the-counter medications, vitamins, herbs, or nutritional supplements? Be sure to note the name of the medication, the dose, and how often you take it.
It is important to have the chance to discuss your health while you are comfortable in your street clothes (prior to disrobing and having an examination).
Even if you feel worried, anxious, or embarrassed about your health concern, don't wait until the end of the visit to bring up your real reason for the appointment or the provider won't have time to deal with it.

For example, a woman went in to the doctor for treatment of cold symptoms, but during the last two minutes of the appointment informed the doctor that she was going through a painful divorce, was highly anxious, and couldn't sleep. This was the real reason that she wanted to see the doctor, but since she didn't bring it up until the end of the visit there wasn't enough time for the doctor to explore the issue with her.

Remember, your provider is legally bound to confidentiality and privacy. And most likely, s/he has "seen it all," and won't be surprised by any of your story.
4. Honesty is the best policy.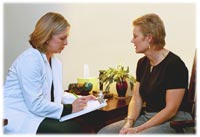 Using acupuncture [17] for pain management? Tell your physical therapist. Thinking about trying valerian to help your insomnia? Share this with your general practitioner.

Healthcare practitioners can often tell you how your therapies might complement one another, or offer you vital information about how certain treatment combinations might be less healthy or even dangerous.
Whatever treatment you're using or planning to try, whether it's integrative or conventional, always let everyone involved with your health care know about everyone and everything you are accessing to address your needs.
5. Consider bringing a friend or family member.
Whether you bring someone with you to your appointment is up to you. For a routine visit, it may not be necessary to bring a friend or family member with you.

On the other hand, if you are feeling anxious or concerned, have a language barrier, are facing a challenging diagnosis, or anticipate discussing treatment options, it may be helpful to have someone with you. Choose someone who is a good listener and who won't interrupt, dominate the visit or ask too many of their own questions.

The person who accompanies you on your visit can be another set of ears. This will help you remember after the appointment what was said. It is often helpful to have this person write information down so that you have a written record of what was discussed or done.
6. Don't leave until you understand what to do next.
Even with routine examinations or check-ups, be sure you understand the results before you leave.

Results of the Appointment Form (Print [18])
What was the result of the exam? Were any problems identified or diagnoses made?
If laboratory or other tests were done, when and how will I get the results? Will I also receive an interpretation of the results - in other words, how will I know if they are normal?
Are there screening or diagnostic tests that should be scheduled? If so, when or how often?
If a diagnosis was made, what are my treatment options?
What recommendations does the healthcare provider have for helping me maintain or improve my health or prevent disease?
If you have been given a prescription or other type of medication, know the following.

Medication Questions Form (Print [19])
What is being prescribed and why? What symptoms does it treat?
How and when should the medication be taken? What is the dose and frequency? Should I take it with food or water?
Are there side effects? For example, drowsiness, nausea, or dry mouth?
How will I know if the medication is working? When will I notice, or how long before I can expect a change?
Will the medication interfere with any other prescriptions or substances I'm taking?
What should I do if I forget to take a dose? Take another? Skip it?
How much does it cost? Will my insurance cover it? Is there a generic subsitute?
Are there alternative medications to consider? Are there other medications that might have fewer side effects, or are less expensive?
What should I do if I get a serious diagnosis?
Sometimes a visit to your healthcare provider turns out to be anything but routine. If you are diagnosed with a serious disorder, emotions like confusion and fear might make communicating with your physician even tougher.

The following checklists, based on the work of Tara Parker-Pope, offers basic inquiries you should make if you receive some difficult health news.
Need for Surgery Checklist (Print [20])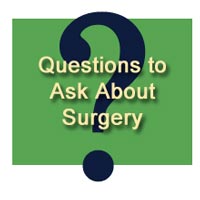 In order to better assess surgery-related risk, you should ask the following questions. The first question is for your primary care provider, the rest are for surgeons you are considering.
Whom would you go to? Almost without exception, doctors say the best question to ask a doctor is where they would go themselves, or a send a family member. So ask your primary care provider which surgeons they recommend.
How many times have you done this? A patient can dramatically improve his or her chances of survival by picking a surgeon who has performed the operation frequently. Exactly how many procedures is enough to qualify as high-volume depends on the surgery. Research volume-outcome data on the internet or ask several doctors to compare their experience.
Do you know the anesthesiologist? It is important for the surgeon to feel comfortable that the anesthesiologist is in control of what's happening.
Can it be done with a less invasive procedure? Surgeons often like to do the procedures they are best at, but that means new procedures or less invasive options might not always be discussed. Seek the advice of other surgeons and other doctors before proceeding with a particular surgery.
What's on the horizon? Patients facing elective surgery should ask about potential new treatment developments that might be worth waiting for.

Cancer Diagnosis Checklist (Print [21])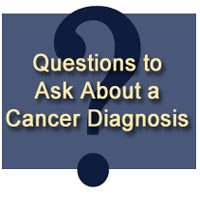 If you have received a cancer diagnosis, it is important to ask your doctor the following questions (and ask the same questions when seeking a second opinion):
Are you sure? Cancer is complicated. As a result, sometimes the pathology report is wrong.
Has my cancer been properly staged? The staging of cancer from 0 to IV indicates the extent and severity of the disease. It is also the deciding factor in treatment. The accuracy of the staging depends on the experience of the radiologist and the quality of the scans. As a result, it is important to have this double-checked.
Are there molecular markers or lab tests to show which drugs will work best? Many doctors will quickly answer no. But it is important to research all of your options. For example, molecular profiling is a process that helps patients determine if particular drugs are likely to work for them and it is already helping people with certain cancers.
Is this the best place to be treated? Find out whether your hospital's cancer program is accredited by either the National Cancer Institute or the American College of Surgeons Commission on Cancer.
What are the newest treatments? This question can gauge how well your doctor is keeping up with the latest cancer research. Also keep up to date with the newest treatments yourself by asking other doctors, patients, support groups, or searching clinical-trial databases, medical journals, and the web.
Heart Attack Risk Checklist (Print [22])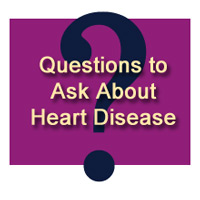 In order to better assess your heart-attack risk, you should ask the following questions:
What is my Framingham risk score? This is a tool that predicts your chance of heart attack in the next 10 years, based on four factors: (1) high cholesterol, (2) high blood pressure, (3) diabetes, and (4) smoking. You can get a score card at The National Heart, Lung, and Blood Institute 's website. If your 10-year risk is greater than 20%, you are high risk. But patients with a risk of 5-20% should probably keep asking questions. Note that the Framington score doesn't factor in family history or new emerging risk factors, so a prediction of low or medium isn't always reliable.
What do some of the novel risk factors say about my heart health? Twenty percent of people who have heart attacks (more than 200,000 people annually) don't have one of the four major risk factors. Knowing some or all of these risk factors can help you decide how aggressive your treatment should be.
How is my waist size? Your waist size (greater than 35 inches for women and 40 inches for men) is an important predictor of your heart health and may be one sign that you are at risk for metabolic syndrome, a collection of risk factors that make you vulnerable to diabetes and heart disease. [Note: Waist size is not a reliable marker in African Americans.]
Is my blood pressure low enough? Nearly 1/3 of patients with high blood pressure don't realize it. And nearly 70% of patients with high blood pressure don't have it under control. New research has found that the risk of death from heart disease and stroke begins to rise at blood pressure as low as 115/75. The ideal gap between the two blood pressure readings is between 30 and 40 - anything above or below that range signals increased risk for heart problems.
What can you tell me about my short-term risks? Increasingly, doctors are working on identifying patients who may also be at risk for heart attack in the short term (over the next few months). Nationwide, about 26,000 patients a year have a heart attack after being sent home from an emergency room because existing tests showed they weren't at risk. Women and younger patients are most likely to be sent home by mistake.
In summary
Be smart about your healthcare appointments. Bring the information your provider will need to the appointment, including healthcare records if necessary. Address the key issues early in the visit and be prepared to explain the symptoms clearly. Don't leave until you understand what the provider tells you and what you need to do next.