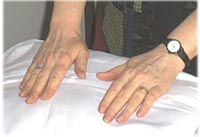 There are now more than 90,000 people who have level one in Healing Touch worldwide. Healing Touch is practiced in the United States, Canada, Australia, New Zealand, Europe, Africa, and South and Central America, with more countries becoming involved every year.
You can find certified Healing Touch practitioners by asking your healthcare providers if they are certified or know someone who is. If you are in the hospital, ask your nurse if there are certified practitioners on staff who incorporate Healing Touch in their professional practice, and if you could request a session.
You can also find a certified practitioner by looking at these two professional organizations: Healing Touch Program and Healing Touch International. The primary considerations in choosing a practitioner are your personal comfort with the practitioner and your confidence in their experience. Location may also be a factor in your choice.
What does certification mean?
Becoming certified as a Healing Touch practitioner requires several steps. The first step involves a continuing education program that consists of several levels of training that move from beginning to advanced. During this training, students learn more than 25 techniques—from basic to complex. After completion of the classes, students begin a minimum one-year mentorship with a certified practitioner.
For more information about certification, visit the Healing Touch Program or Healing Touch International.
How much does a session cost?
The cost of a Healing Touch session varies. Typically, practitioners charge individuals between $40 and $90 for a one-hour private session. Cost depends on the experience of the practitioner, the needs of the client, and the standard pricing in the community. At this time, most fees are not reimbursable by insurance.
If you receive a Healing Touch session in the hospital or other clinical setting, it may be considered part of the nursing practice or supported by a grant or volunteers. You can ask when requesting a session.