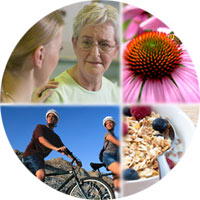 Naturopathic medicine is a science-based tradition that promotes wellness by identifying the unique aspects of each patient and then employing non-toxic natural therapies to restore his or her physiological, psychological, and structural balance.
The American Association of Naturopathic Physicians (AANP) defines naturopathic medicine as:
"A distinct system of primary health care-an art, science, philosophy, and practice of diagnosis, treatment, and prevention of illness. Naturopathic medicine is distinguished by the principles upon which its practice is based. These principles are continually re-examined in the light of scientific advances. The techniques of naturopathic medicine include modern and traditional, scientific, and empirical methods" (AANP, 1998).