Learning how your body works at the end of pregnancy and during childbirth is very helpful as you prepare for birth. When you understand what is happening, you can interpret your body's signals more effectively and participate more fully in your labor and birth.
What do things look like inside?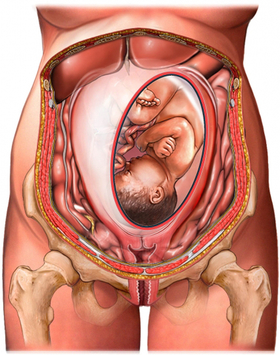 Let's review the basic anatomy of your pelvis, uterus, and cervix and the structures surrounding them and your baby. 
The bones and muscles of the pelvis provide support for the growing uterus and baby, and provide a passage through which your baby emerges during birth.
The uterus surrounds the baby, growing as the baby grows.
The cervix is actually a part of the uterus, but made up of different tissue. During pregnancy, the cervix is thick and closed. As you approach the time of birth, your contractions draw the cervix up into the body of the uterus, and it becomes thinner (called effacement) and opens (called dilation).  When the cervix is fully dilated (about ten centimeters), contractions help the baby begin to move from the uterus into the vagina.
The vagina leads from the cervix to the outside of your body. The inside of your vagina has many folds, called rugae, which unfold as the baby passes through.