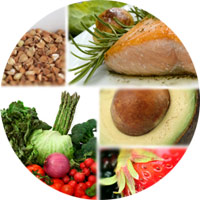 The Mediterranean diet is not a specific diet plan or program, but rather a collection of eating habits traditionally followed by people of the Mediterranean region, including Greece, Crete, southern France, and parts of Italy.  While there is no universal definition of the Mediterranean Diet, many components have been consistently identified, including an abundance of natural, whole foods, especially fruits and vegetables, along with olive oil, fish, nuts, and a moderate amount of wine.
Evidence of health benefits
Scientific research indicates that the Mediterranean diet can improve health and longevity.
One example of this research is the now-famous Lyon Diet Heart Study, which began in 1988 to study whether a Mediterranean diet could reduce the incidence of second heart attacks or heart-related deaths among a group of 605 men and women who had survived a first heart attack. Just two and a half years into the trial, the study was stopped because the benefits of the Mediterranean diet were so compelling.
Another example, an NIH-AARP study published in the Archives of Internal Medicine in 2007, also provided strong evidence for the beneficial effects of this diet on Americans, showing that a higher conformity with the Mediterranean dietary pattern reduced risk of death from all causes, including deaths due to cardiovascular disease and cancer.