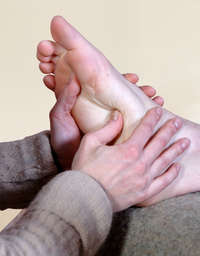 In reflexology theory, points and areas on the feet, hands, and ears correspond to specific organs, bones and body systems. Practitioners access these points on the feet and hands (bottom, sides, and top) and the ear (both inside as far as the finger can reach and outside) to affect organs and systems throughout the entire body.
To represent how the body systems correspond to one another, reflexologists use reflexology "maps." Understandably, there is not agreement among all reflexologists on all points; however, general agreement does exist on major reflex points.
A reflexologist may perform a general, integrated session, or may focus on specific problem areas on the feet, hands or ears. For example, if time is limited and the person really needs to relax, the reflexologist may choose just to work on the ears.
Whatever the specific technique, reflexology theory holds that the practitioner is working to release congestion or stress in the nervous system and balance the body's energy.