The national average for a massage is approximately $60 per hour. This varies significantly by region (urban areas are generally more expensive due to the higher costs of operating a practice there), setting (fitness clubs are sometimes cheaper because massage is a way to attract members), and therapist training. In addition, therapists will sometimes offer a discounted package rate to encourage return visits and build a practice.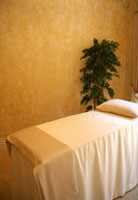 If you want to know if a therapist is charging competitive rates, you can call a few therapists with similar services and compare prices and training.
Does health insurance cover massage therapy?
Massage therapy is sometimes covered by health insurance. This may depend on the state you live in. Generally, you need a doctor's order (prescription), to get health insurance benefits.
Some licensed healthcare professionals, such as doctors, physical therapists, occupational therapists, osteopaths, or chiropractors may have a massage therapist working as an employee of the business. If that is the case, insurance benefits for massage may be allowed under the licensed professional's supervision. You can ask your health plan administrator about this.
Your massage therapist may be able to bill your health insurance company directly. In other cases, you may need to pay the therapist directly, and then mail in your own claim with an invoice for services rendered, to be reimbursed later. If your insurance does not cover massage therapy, you will have to pay at the time of service.
Does auto insurance cover massage?
In most states, auto insurance will cover a treatment plan if prescribed by a licensed primary care healthcare professional.
What are other options?
In some states, workman's compensation will pay for massage.
 
If you don't have health insurance coverage for massage, check if your company has a cafeteria or medical set aside plan which allows you to pay for medical expenses with pre-tax dollars. If it does, ask if massage is covered as a medical necessity. If so, you can submit the massage prescription from your licensed medical professional and apply for reimbursement from the money you set aside. Health savings accounts are another way to maximize your health care dollar.
If there is a massage school in your area, it may have a clinic with student therapists supervised by experienced professionals. If there is a fee attached to those services, it is usually significantly less than that charged elsewhere.