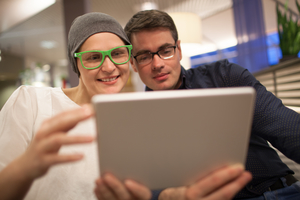 When people are diagnosed with a life-altering illness, such as diabetes or cancer, or depression, it can be overwhelming.  They need information and support, especially from someone who has been there.  Ask your providers if they know of a support group for people with your condition. Check with the hospitals in town as well as health associations, such as the American Cancer Society.
Another great resource, regardless of where you live, is an online social networking site centered around health issues. You can access these websites from anywhere, whenever you have a question or  could use some support.
What is an online social network?
Online social networks are websites that provide a forum for people to share their experiences with others. Many social networks provide message boards, chat forums, and other communication tools for their members to connect. In social networks organized around health issues, members discuss their experiences, such as side effects and symptoms and offer one another advice and support
How can an online social network help you?
Online social networks aim to connect individuals, regardless of location. One e-patient remarked, "I live in a small town, and it is helpful to be able to use the internet to find others that have the same anxiety disorder I do." Social networks give individuals with health questions access to a much broader spectrum of people, which provides many benefits.