Essential oils enter the body in three ways. They can be:
✔  Applied to the skin
✔  Inhaled
✔  Ingested
How does skin application work?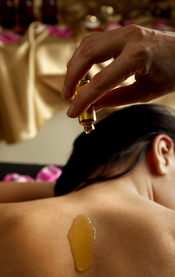 Essential oils can be applied topically to the skin. Common examples include applying a blend that contains black pepper (Piper nigrum) or ginger (Zinziber officinalis) essential oil to reduce arthritis pain and improve flexibility, or applying German Chamomile (Matricaria recutita) essential oil to treat eczema.

How does this work? Our skin is somewhat permeable. The active chemicals in essential oils are absorbed just like the ingredients in common pharmaceuticals such as hormone replacement therapy cream and nicotine patches.
Factors that increase skin absorption
Different factors can affect the absorption of essential oils through the skin. If you massage the area first, it will increase circulation to that area, thereby causing an increase in absorption of essential oils. Heat will likewise increase circulation and thus enhance absorption.
Some researchers report that essential oils may be more readily absorbed from skin locations with greater concentrations of sweat glands and hair follicles, such as the genitals, head, soles, palms, and armpits (Battaglia, 2003).