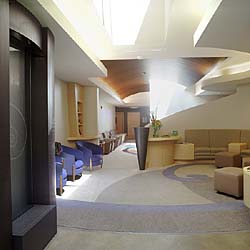 Since the earliest times, humans have needed to be sensitive to their surroundings to survive, which means that we have an innate awareness of our environment and seek out environments with certain qualities.
First of all, humans have a strong need for safety and security and look for those attributes in their environment. We also look for physical comfort, such as an environment with the right temperature. In addition, we seek an environment that is psychologically comfortable: for example, environments that are familiar, but offer the right amount of stimulus.
Retailers and the hospitality industry know this very well and try to provide an atmosphere that creates a positive customer experience and offers three important attributes: comfort, safety, and entertainment. These attributes are equally important in healthcare as well.