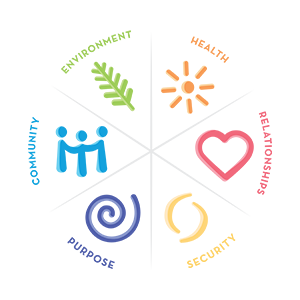 Do you feel:
Content?
Energized?
Connected?
Balanced?
Are you able to put the bad days in perspective and live with a sense of purpose?
If you answered yes, then you are experiencing wellbeing, a state of general contentment with life and the way things are. In this state we experience balance in body, mind, and spirit and feel connected to purpose, people, and community.
But many of us aren't there. Our lifestyle is causing us pain, whether we are tired or stressed or overweight. We feel disconnected from others or stuck in a routine that hold no meaning. We are dissatisfied with our daily lives. We live in worry. 
The good news is that—with practice, we can enhance our wellbeing and achieve a state of balance and contentment.  We can flourish!