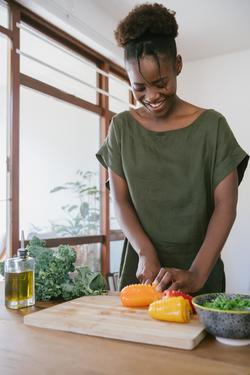 Want to make a difference but don't know where to start? The field of planetary health is vast, and there is room for everyone to make a meaningful contribution. 
Start by choosing one area of planetary health that most closely aligns with your own values and passions. Maybe you're a cook who cares about reducing food waste, or an animal lover who wants to contribute to healthy environments for wildlife. Starting with what you care about can help you focus your intention and do your best work.
Make it concrete
It can be helpful to clarify your intention into a concrete goal that makes sense for your life. Use our goal setting feature to learn how ready you are for change, define clear action steps, and set up a timeline and plan for accountability.
Need some ideas? Below are a few ways you can work toward planetary health, with suggestions for every level of commitment, from individual choices to collective action. (These are only a few examples of actions you can take, big and small, to support the health of the planet and your fellow humans. For even more ideas, visit Drawdown EcoChallenge and check out our Top 10 Tips for Reducing Global Warming.)